Saving the Rhino Hermes
A case study from Namibia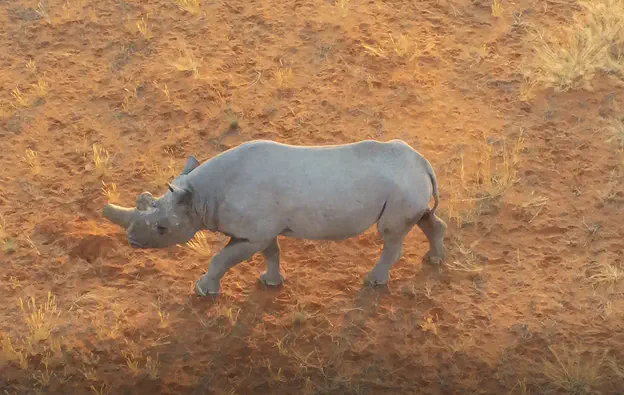 Alice Hua, Eugene Shen, Kevin Martin, Nicole Chen, Catherine Mou
8/20/2021
---
Introduction
This Summer 2021 semester, our team had a chance to work on an awesome wildlife conservation project partnered with WildTrack, a NGO that specializes in using drones and AI to monitor endangered species. Our focus is primarily on the black rhinos in Namibia (the name Hermes refers to a nickname assigned to WildTrack's favorite rhino!)
Our goal is to to build a proof of concept for rhino protection against poachers using drone imagery and cutting-edge computer vision as part of our w251 Deep Learning in the Cloud and on the Edge course at the Berkeley School of Information. We set out an ambitious task on curating our own dataset, labelling over 50 videos, training the model on the cloud, then doing inference in the edge using our trained model and simultaneously sending the notification of animal location + images to the cloud webapp. We imagined the anti-poaching units seeing the detected rhinos or illegal humans on our cloud-hosted map, and effectively dispatch their anti-poaching unit, based on the broadcasted location, in time to protect the rhinos from poachers.
Below is our pipeline in the deck and project walk through, highlighted results:
Results
Our trained model on an a an unseen video feed on similar terrain and climate conditions:
Our trained model on an a an unseen video feed on dissimilar terrain and climate conditions:
Notification System
Our model sends notifications to the cloud-hosted web application that shows the video frame of the animal on the location it was spotted at.
You can read about our methods, challenges, solutions and findings in more detail in this paper:
---
Acknowledgement
We are deeply indebted to Zoe Jewell and Sky Alibhai from WildTrack, as well as Kuzikus Wildlife Reserve for their support with critical data needed to train our model at both high and low altitudes.
We're also deeply grateful for the support from San Diego Safari Park for approving our Drone Exception Request permit so that we can fly our drone in the sky above their protected animals spreading over 18k acres of land.
---
Bonus
Here is some footage of our trip to the San Diego Safari Park for test footage. We were approved three days before our deadline. We didn't know whether we'd make it out there at all up until that point. So at 4am in the morning, my teammate and I met up to drive 3 hours to the park. We were greeted with Jim Haigwood, a wildlife care manager who personally escorted us on his ATV around the 18k acres park. Our drone flew up to 120m in the early morning air. We got to see and collected drone footage of the black rhinos, greater one-horned rhinos and Southern white rhinos up close. They are very majestic, and the experience was close to a miracle.
Thank you San Diego Safari Park and San Diego Zoo for entrusting us on our mission to protect the remaining endangered rhinos in the world.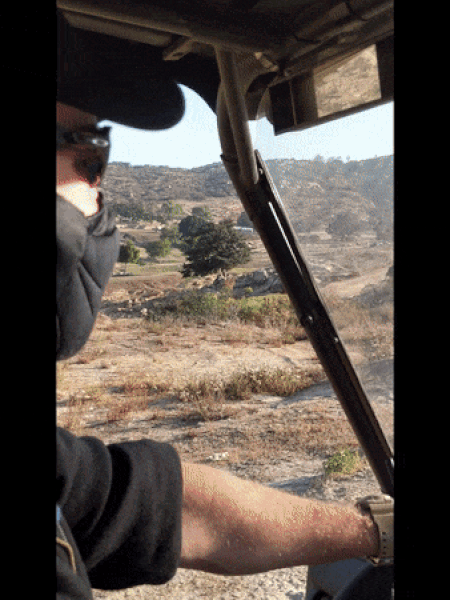 Caption: Our drive to see the rhinos with Jim Haigwood, a wildlife care manager!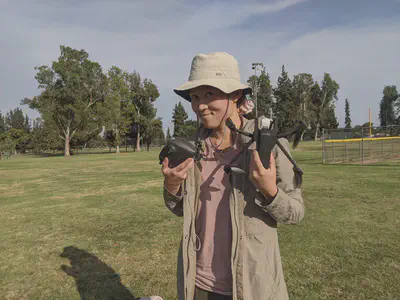 Caption: I bought this Parrot Anafi drone, super friendly to use. This was shot at a local park to get more data for our human class, I needed to dress like I'm on the field.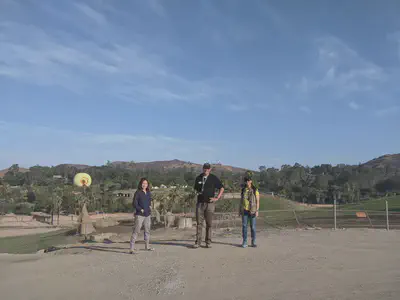 Caption: Two out of five team members and Jim on an early morning drone flight. Behind us are the Southern white rhinos.
---
Security:
We cannot share our source code for this project per privacy and security concerns
We used pseudo coordinates rather than real coordinates during inference
Next steps:
Publishing our findings through PeerJ biodiversity journal with WildTrack

Continuing the partnership with WildTrack + Kuzikus to provide support and research through Slack specifically set for AI & research between students and WildTrack

Meeting + brainstorming with drone makers like Quantum Systems, Zoe expressed an interest in acquiring their new drone Trinity F-90

Attract more interest from current and future students in our program MIDS to identify more solutions to non-invasive wildlife monitoring and conservation
---
Did you find this page helpful? Consider sharing it 🙌