Sudoku A Python Game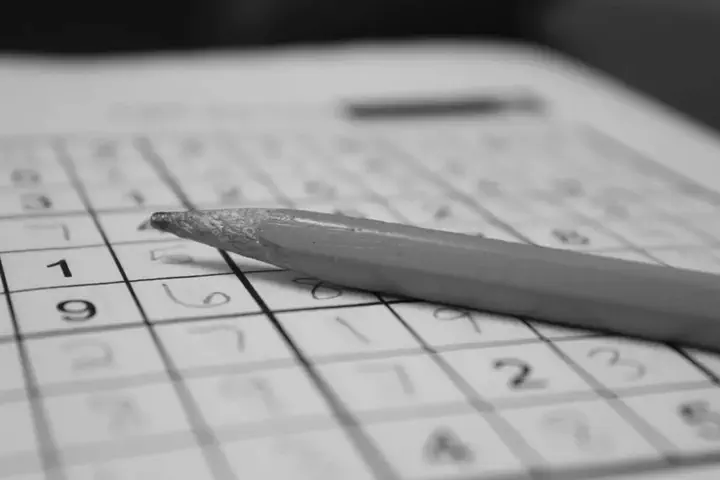 Author: Alice Hua
W18 UC Berkeley School of Information
Summer 2019

Project Summary
The motivation for this project is to create a game in the console using a Python script and Object Oriented Programming principles.
I. How to use the project:
Run the .py file to use the project.
The rules to the game are as follow:

Each row has all numbers from 1 - 9

Each column has all numbers from 1 - 9

Each 3x3 grid box has all numbers from 1 - 9

User will be asked to give a numerical input (valid input is any number from 1 to 9) based on their row and column selection. Each time the user enters a number, the board will be printed with the updated input. However many empty cells are the needed user's inputs to complete the game. Once the board is filled. The game will compare the user's solution to their board's original solution. If they have successfully solved the Sudoku, the game will return True. Otherwise, they'll see False. In this case, they could exit the game or play again.
II. Dicuss challenges I faced and how I overcame them:
Challenge 1: The first challenge building this game is how could the board be built in a way that allows me to extract the row and column, update the item and return the board. I found that I need to take the user's inputs to update the current board and print it out for each cycle. The print-out board needs to look visually understandable to the user, without commas, quotations or brackets, so I needed to create a DisplayBoard method to do so. Also in regard to asking the same questions till the board is full, I thought of putting the inputs in a while loop with the condition that if the board is not full, which is checked by a class method Board_not_Full.
Challenge 2: How to initialize the functions written. Like when to call the functions. I found out that initializing a method requires that you create a new instance of a class, which if I use @staticmethod, then I don't need to create a new instance. However, I did not need to use it. The challenge is here is how to solve problems the simplest way possible, not be inclined to import multiple libraries or overcomplicate the solutions.
Challenge 3: How to check for answer. Should I write multiple methods to check for each row and each column. I wrote all the methods I thought were necessary but toward the end of the week, I came up with a simpler solution. Instead of checking for each row and column then each box. I can achieve the same goal with one method that checks the filled out board to the solution board.
class Board:


    """Setting board game and board game solution for Soduku"""


    def __init__(self):


        self.board = [["*", "*", "*", "1", "*", "8", "*" ,"*", "*"],


         ["2", "8", "*", "3", "*", "5", "*", "*", "*"],


        ["5", "*", "*", "*", "2", "4", "6", "3", "8"],


        ["*", "7", "*", "8", "*", "*", "5", "*", "*"],


        ["4", "*", "*", "9", "1", "6", "*", "*", "3"],


        ["*", "*", "1", "*", "*", "7", "*", "8", "*"],


        ["6", "3", "7", "2", "5", "*", "*", "*", "1"],


        ["*", "*", "*", "6", "*", "3", "*", "7", "9"],


        ["*",  "*", "*", "4", "*", "1", "*", "*", "*"]]





        self.board_solution = [["7", "6", "3", "1", "9", "8", "4" ,"5", "2"],


        ["2", "8", "4", "3", "6", "5", "1", "9", "7"],


        ["5", "1", "9", "7", "2", "4", "6", "3", "8"],


        ["9", "7", "6", "8", "3", "2", "5", "1", "4"],


        ["4", "5", "8", "9", "1", "6", "7", "2", "3"],


        ["4", "2", "1", "5", "4", "7", "9", "8", "6"],


        ["6", "3", "7", "2", "5", "9", "8", "4", "1"],


        ["1", "4", "5", "6", "8", "3", "2", "7", "9"],


        ["8",  "9", "2", "4", "7", "1", "3", "6", "5"]]





    """Setting the user's input of their guesses into the correct row and column"""


    def SetBoard(self, row, item, guess):


        """setting the guess into the row and item"""


        if self.board[row][item] == "*":


            self.board[row][item] = str(guess) 


        else: 


           print("Incorrect placement or not a proper number! Try again! Remember to count from 0?!")  


        


    """"Print out the board in a more visually appealing representation"""           


    def DisplayBoard(self):


        """print the values in the rows"""


        row_string = ''


        for row in self.board:


            for element in row:


                row_string = row_string + ' ' + element


            row_string += '\n'


        print(row_string)





    def Board_not_Full(self):


        """Check if board is full"""


        for row in self.board:


            for item in row:


                if "*" == item:


                    return True


        return False  





class Board_Med(Board):


    """Creating the first subclass of board for a different level of the board game"""


    def __init__(self):


        self.board = [["*", "2", "*", "*", "*", "*", "*", "*", "3"],


        ["3", "6", "*", "*", "7", "1", "4", "5", "*"],


        ["1", "*", "*", "*", "*", "*", "2", "*", "*"],


        ["*", "1", "4", "5", "*", "*", "*", "8", "*"],


        ["*", "*", "3", "*", "6", "*", "5", "*", "*"],


        ["*", "5", "*", "*", "*", "9", "7", "1", "*"],


        ["*", "*", "6", "*", "*", "*", "*", "*", "1"],


        ["*", "4", "1", "6", "3", "*", "*", "7", "5"],


        ["8", "*", "*", "*", "*", "*", "*", "3", "*"]]





        self.board_solution = [["4", "2", "7", "8", "5", "6", "1", "9", "3"],


        ["3", "6", "9", "2", "7", "1", "4", "5", "8"],


        ["1", "8", "5", "4", "9", "3", "2", "6", "7"],


        ["6", "1", "4", "5", "2", "7", "3", "8", "9"],


        ["7", "9", "3", "1", "6", "8", "5", "4", "2"],


        ["2", "5", "8", "3", "4", "9", "7", "1", "6"],


        ["5", "3", "6", "7", "8", "4", "9", "2", "1"],


        ["9", "4", "1", "6", "3", "2", "8", "7", "5"],


        ["8", "7", "2", "9", "1", "5", "6", "3", "4"]]    





class Board_Hard(Board):


    """Creating a second subclass of board for a different level of the board game"""


    def __init__(self):


        self.board = [["6", "*", "9", "3", "7", "5", "*", "*", "*"],


        ["*", "*", "*", "1", "*", "*", "*", "*", "*"],


        ["1", "*", "*", "*", "*", "9", "*", "5", "*"],


        ["*", "9", "*", "*", "*", "*", "2", "*", "1"],


        ["*", "*", "8", "*", "*", "*", "6", "*", "*"],


        ["2", "*", "7", "*", "*", "*", "*", "9", "*"],


        ["*", "4", "*", "9", "*", "*", "*", "*", "7"],


        ["*", "*", "*", "*", "*", "4", "*", "*", "*"],


        ["*", "*", "*", "5", "1", "7", "3", "*", "6"]]





        self.board_solution = [["6", "2", "9", "3", "7", "5", "4", "1", "8"],


        ["8", "7", "5", "1", "4", "2", "9", "6", "3"],


        ["1", "3", "4", "6", "8", "9", "7", "5", "2"],


        ["4", "9", "6", "7", "5", "8", "2", "3", "1"],


        ["3", "5", "8", "2", "9", "1", "6", "7", "4"],


        ["2", "1", "7", "4", "6", "3", "8", "9", "5"],


        ["5", "4", "3", "9", "2", "6", "1", "8", "7"],


        ["7", "6", "1", "8", "3", "4", "5", "2", "9"],


        ["9", "8", "2", "5", "1", "7", "3", "4", "6"]]





class Board_Diabolical(Board):


    """Creating a third subclass of board for a different level of the board game"""


    def __init__(self):


        self.board = [["*", "*", "7", "*", "*", "*", "6", "*", "*"],


        ["3", "6", "*", "*", "2", "7", "*", "*", "*"],


        ["*", "*", "2", "4", "*", "*", "*", "1", "*"],


        ["*", "*", "*", "*", "7", "*", "1", "*", "*"],


        ["*", "9", "*", "5", "*", "3", "*", "6", "*"],


        ["*", "*", "3", "*", "9", "*", "*", "*", "*"],


        ["*", "3", "*", "*", "*", "4", "2", "*", "*"],


        ["*", "*", "*", "6", "1", "*", "*", "3", "8"],


        ["*", "*", "9", "*", "*", "*", "4", "*", "*"]]





        self.board_solution = [["1", "5", "7", "3", "8", "9", "6", "2", "4"],


        ["3", "6", "4", "1", "2", "7", "5", "8", "9"],


        ["9", "8", "2", "4", "6", "5", "3", "1", "7"],


        ["5", "4", "8", "2", "7", "6", "1", "8", "3"],


        ["7", "9", "1", "5", "4", "3", "8", "6", "2"],


        ["6", "2", "3", "8", "9", "1", "7", "4", "5"],


        ["8", "3", "6", "9", "5", "4", "2", "7", "1"],


        ["4", "7", "5", "6", "1", "2", "9", "3", "8"],


        ["2", "1", "9", "7", "3", "8", "4", "5", "6"]]





class Check:


    """This is a class that checks the user's filled out board to the board solution"""


    def BoardsAreEqual(self, board, board_solution):


        """Returns true if board and board_solution are identical false otherwise"""


        for row_i in range(0, 9):


            for col_i in range(0, 9):


                if board[row_i][col_i] != board_solution[row_i][col_i]:


                    return False


        return True





#start of input





print('                                     ')


print('========Welcome to Sodoku!==========================')


print('There are 4 rules to this game: ')


print('1. This is a 9x9 grid box. Valid numbers are 1 to 9')


print('2. Each row has all numbers from 1 to 9')


print('3. Each column has all numbers from 1 to 9')


print('4. Each 3x3 grid box has all numbers from 1 to 9')


print("====================================================")


print('                                     ')


level = int(input('Choose level:        1. easy     2.medium        3.hard      4.diabolical'))


print('                                     ')





#call Board here, print board according to the user's level input


#create instances of the various boards to display the appropriate board. The method DisplayBoard is inherited from Board class to other Board level classes, such as hard, medium, and diabolical





print_board_easy = Board()


print_board_med = Board_Med()


print_board_hard = Board_Hard()


print_board_diabolical = Board_Diabolical()





if level == 1:


    print_board_easy.DisplayBoard()


elif level == 2:


    print_board_med.DisplayBoard()


elif level == 3:


    print_board_hard.DisplayBoard()


elif level == 4:


    print_board_diabolical.DisplayBoard()





#create instances of the various boards to check to use the method attributes of class Board


check_board = Board()


check_board_med = Board_Med()


check_board_hard = Board_Hard()


check_board_diabolical = Board_Diabolical()





#Reiterate the questions till the board is filled. This is a giant if else statement that takes in the user's input for the level they desire to play in.





if level == 1:


    while check_board.Board_not_Full() == True:


        try:


            row = int(input("Enter a row:"))


        except ValueError:


            print("Row must be a number from 0 to 8, starting from the top.")





        try:


            item = int(input("Enter a column:"))


        except ValueError:


            print("Column must be a number from 0 to 8, starting from the left.")


        try:


            guess = int(input("Enter a guess:"))


            if guess in range(1,10):


                try: 


                    check_board.SetBoard(row, item, guess)


                except IndexError as other:


                    print("Row, column and guess must be a number from 0 to 8, starting from the top.", other)


                check_board.DisplayBoard()


            else:


                print("Guess is your answer. It must be a number from 1 to 9. Please correct.")


        except:


            print("Guess is your answer. It must be a number also but from 1 to 9")


        try:


            give_up = input("Enter q to give up :) It's OK! Unless you want keep playing, enter anything else!")


            if give_up != 'q':


                continue


        except:


            print('Must enter a character to continue.')


            if give_up == 'q':


                break


elif level == 2:


    while check_board_med.Board_not_Full() == True:


        try:


            row = int(input("Enter a row:"))


        except ValueError:


            print("Row must be a number from 0 to 8, starting from the top.")





        try:


            item = int(input("Enter a column:"))


        except ValueError:


            print("Column must be a number from 0 to 8, starting from the left.")


        try:


            guess = int(input("Enter a guess:"))


            if guess in range(1,10):


                try: 


                    check_board_med.SetBoard(row, item, guess)


                except IndexError as other:


                    print("Row, column and guess must be a number from 0 to 8, starting from the top.", other)


                check_board_med.DisplayBoard()


            else:


                print("Guess is your answer. It must be a number from 1 to 9. Please correct.")


        except:


            print("Guess is your answer. It must be a number also but from 1 to 9")





        try:


            give_up = input("Enter q to give up :) It's OK! Unless you want keep playing, enter anything else!")


            if give_up != 'q':


                continue


        except:


            print('Must enter a character to continue.')


            if give_up == 'q':


                break


elif level == 3:


    while check_board_hard.Board_not_Full() == True:


        try:


            row = int(input("Enter a row:"))


        except ValueError:


            print("Row must be a number from 0 to 8, starting from the top.")





        try:


            item = int(input("Enter a column:"))


        except ValueError:


            print("Column must be a number from 0 to 8, starting from the left.")


        try:


            guess = int(input("Enter a guess:"))


            if guess in range(1,10):


                try: 


                    check_board_hard.SetBoard(row, item, guess)


                except IndexError as other:


                    print("Row, column and guess must be a number from 0 to 8, starting from the top.", other)


                check_board_hard.DisplayBoard()


            else:


                print("Guess is your answer. It must be a number from 1 to 9. Please correct.")


        except:


            print("Guess is your answer. It must be a number also but from 1 to 9")





        try:


            give_up = input("Enter q to give up :) It's OK! Unless you want keep playing, enter anything else!")


            if give_up != 'q':


                continue


        except:


            print('Must enter a character to continue.')


            if give_up == 'q':


                break


elif level == 4:


    while check_board_diabolical.Board_not_Full() == True:


        try:


            row = int(input("Enter a row:"))


        except ValueError:


            print("Row must be a number from 0 to 8, starting from the top.")





        try:


            item = int(input("Enter a column:"))


        except ValueError:


            print("Column must be a number from 0 to 8, starting from the left.")


        try:


            guess = int(input("Enter a guess:"))


            if guess in range(1,10):


                try: 


                    check_board_diabolical.SetBoard(row, item, guess)


                except IndexError as other:


                    print("Row, column and guess must be a number from 0 to 8, starting from the top.", other)


                check_board_diabolical.DisplayBoard()


            else:


                print("Guess is your answer. It must be a number from 1 to 9. Please correct.")


        except:


            print("Guess is your answer. It must be a number also but from 1 to 9")





        try:


            give_up = input("Enter q to give up :) It's OK! Unless you want keep playing, enter anything else!")


            if give_up != 'q':


                continue


        except:


            print('Must enter a character to continue.')


            if give_up == 'q':


                break


#Now if the board is filled out, we have to check it against the solution and give back our response: 





Final_board = Check()


while check_board.Board_not_Full() == False:


    if Final_board.BoardsAreEqual(check_board.board, check_board.board_solution) == True:


        print('Beautiful! You are a master at easy Sodoku! You can try a harder Sodoku now!')


    else: 


        print('So sad! Your board is not correct. Could you have violated any rules of the game? Thank you for playing. Feel free to try again!')


    break


while check_board_med.Board_not_Full() == False:


    if Final_board.BoardsAreEqual(check_board_med.board, check_board_med.board_solution) == True:


        print('Beautiful! You are a master at medium Sodoku! You can try a harder Sodoku now!')


    else: 


        print('So sad! Your board is not correct. Could you have violated any rules of the game? Thank you for playing. Feel free to try again!')


    break


while check_board_hard.Board_not_Full() == False: 


    if Final_board.BoardsAreEqual(check_board_hard.board, check_board_hard.board_solution) == True:


        print('Beautiful! You are a master at hard Sodoku! You can try a even harder Sodoku now!')


    else: 


        print('So sad! Your board is not correct. Could you have violated any rules of the game? Thank you for playing. Feel free to try again!')


    break


while check_board_diabolical.Board_not_Full() == False:


    if Final_board.BoardsAreEqual(check_board_diabolical.board, check_board_diabolical.board_solution) == True:


        print('Beautiful! You are a master at the hardest level of Sodoku! You are a God!')


    else:


        print('So sad! Your board is not correct. Could you have violated any rules of the game? Thank you for playing. Feel free to try again!')


    break